Babies make those of us in the Daily Concepts' office Ooo and Ahh. Soon, we'll be adding a bit of Goo and Gah to the mix… (more about that in a few months).
In the meantime, we're tuned into Pregnancy magazine. What we learned today? They're tuned into Daily Concepts, too! In fact, Daily Concepts Your Body Scrubber made their holiday gift guide. Here's what they had to say: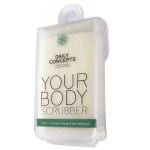 Hoping for a pampering gift in your stocking?  As a mom who already has plenty to remember, I've been ecstatic to discover the Your Body Scrubber from Daily Concepts.  It not only starts off my day with a gentle and invigorating exfoliating scrub, but also provides a clever reminder for when it's time to replace it, with a label that fades over time.   One less thing to remember! The scrubber comes with a loop and suction cup so that you can easily hang it on your shower wall.  If you travel often or find yourself showering at the gym, a convenient carrying pouch makes it easy to take the scrubber with you.  Get yours at www.dailyconcepts.com for $10.00.
Some other great things about Your Body Scrubber — its natural cotton base layer and nylon exfoliating loops are the perfect texture for all skin types. It's also environmentally friendly, made of a soy based foam material (inside the scrubber) to create a rich lather. All Daily Concepts products are clinically, allergy and dermatologist tested. And even better, they're not tested on animals, making them cruelty-free.
One last thing we have to say… Thanks, Pregnancy magazine! The fact that you like Daily Concepts Your Body Scrubber is definitely making our holidays brighter!
To learn more great things from Pregnancy magazine visit http://www.pregnancymagazine.com.
Save