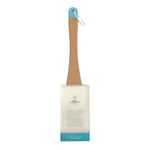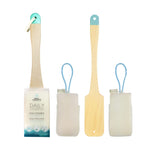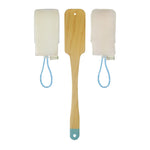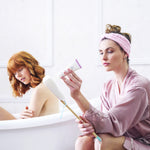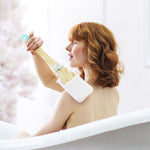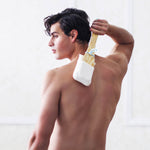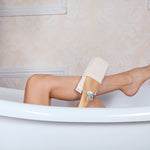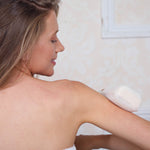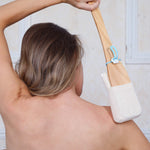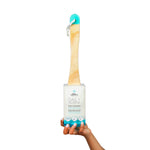 SHOWER THE WORLD WITH LOVE™
At Daily Concepts, we created the Daily Body Kit to make sure your bathing routine is complete.
The Daily Body Kit includes a body scrubber- made to exfoliate and cleanse the skin, a body applicator- to apply lotion and moisturizer, and a wooden handle to get those hard-to-reach areas. Experience the best cleansing and moisturizing skincare routine.

Directions:
Slip on the body scrubber to the wooden handle applicator.
Once in the shower, wet the body scrubber and apply your favorite cleanser or body wash.
Cleanse and exfoliate by gently scrubbing all over the body using circular motions on the skin.
After cleansing is complete, detach the body scrubber from the wooden handle.
To moisturize, remove the body scrubber and slip the lotion applicator onto the wooden handle.
Take your favorite body lotion and apply it with the applicator.
Hang the body scrubber, body applicator and wooden handle to dry until your next shower.
Care:
Your Body Kit comes with SMART LABEL TECHNOLOGY.  When the writing on label fades, it is time to replace your Daily Body Kit! (after approximately 90 days of use). 
Pro Tip: 
To maintain the full functionality of your Daily Body Kit, make sure to thoroughly dry the wooden handle and scrubber before your next use.
What We Love About the Daily Body Kit: 
Gentle exfoliating texture, which is ideal for sensitive skin and all skin types
SMART LABEL TECHNOLOGY, indicating the Daily Body Kit should be replaced when the writing on the label fades
Complete kit, ideal for a full shower routine
Clinically, hypoallergenic and dermatologist tested
Vegan, NEVER tested on animals
Texture: 
Mild (Safe for all skin types)

Component/Materials Used: 
Organic Cotton, Polyamide, Polyester
Biodegradable Nylon, Polyurethane Sponge soy-based Polyol, Pine Wood
CLEAN IS A STATE OF MIND™