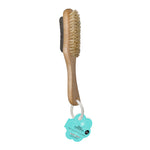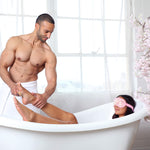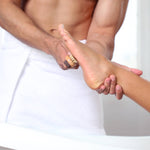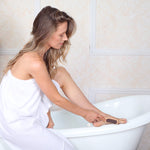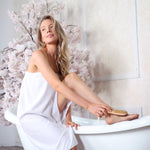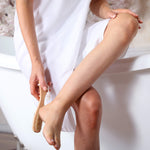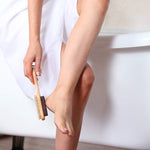 SHOWER THE WORLD WITH LOVE™

Get your soles smooth and give yourself the foot spa special treatment with the Daily Dual Foot Scrubber.
This two-sided foot scrubber is made to scrub and exfoliate dead skin cells, corns, calluses and rough skin on your feet. The pumice stone is for exfoliating rough skin while the brush is best for cleaning off dead skin and debris. Bring back your smooth confidence with the Daily Dual Foot Scrubber! The wooden handle and loop attached for easy application and storage.
Directions:
Gently apply the Daily Dual Foot Scrubber to your feet on your desired area scrubbing back and forth on the pumice stone side. Apply your favorite foot moisturizing products as desired on the pumice stone and your feet before exfoliating the area for extra soft results. Gently apply in circular motions on the desired area with the brush side until all dead skin cell's are brushed away.
Care:
Rinse your feet and the Daily Dual Foot Scrubber with warm water after use and dry until next use.
What We Love About The Daily Polishing Foot Stick:
Deep Foot Exfoliation
Pumice stone for exfoliating rough skin
Brush for cleaning off dead skin
Never tested on animals
Organic, Biodegradable, Vegan
Texture: Vigorous
Components:
Handle: Beachwood
Pumice: Natural Pumice
Bristles: Tampico Bristles
CLEAN IS A STATE OF MIND™