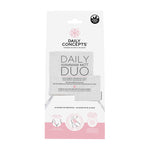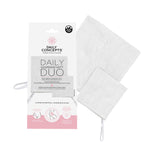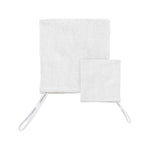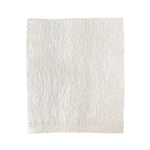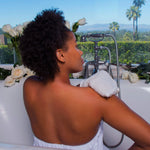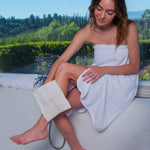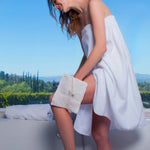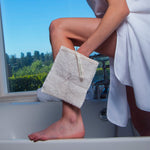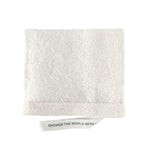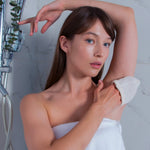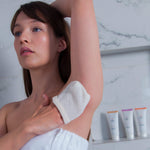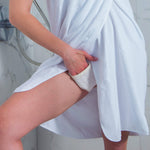 SHOWER THE WORLD WITH LOVE™
Body Hammam Mitt + Grooming Hammam Mitt
The Daily Hammam Mitt Duo, inspired by an ancient Turkish bath ritual, is designed to exfoliate away dead skin, naturally improving the skin's overall texture and complexion. The Body Hammam Mitt provides a vigorous exfoliation across the larger areas of the body. The Grooming Hammam Mitt offers two texture options meant for more sensitive skin. Heighten your exfoliation routine with the Daily Hammam Mitt Duo!
Full-body Exfoliation Experience: The Duo includes two unique-sized mitts; one designed for vigorous exfoliating across the entire body and the other mitt offers two textures on either side and is ideal for the bikini and other more sensitive areas.
Healthy, Radiant Skin: The Hammam Mitts are deeply exfoliating, help with ingrown hairs and are also known to stimulate lymphatic drainage. Add these to your shower routine to reveal healthy, radiant skin.
Add to your Self-Tanning Routine: The Body Hammam Mitt works to remove your faux tan over your entire body and leaves your skin ready for a new application of self-tanner. Amplify your tanning process!
Maintain a Germ-Free Shower: Each mitt includes our smart label technology. When the writing on hangtag fades, it is time to replace your Daily Hammam Grooming and/or Body Mitt (After approximately 90 days of use). The hangtag doubles as a hook to hang, dry and store your mitts in the shower.
Directions and Care:
For best results, soak both Mitts in a hot bath or shower before use then wring out excess water until damp to soften the mitts. The Grooming Hammam Mitt can be used on intimate areas such as the bikini area, underarms and any other more sensitive area. On clean, softened skin, place fingers or hand in mitt and use circular motions to exfoliate, applying light to medium pressure. With the Body Hammam Mitt, be sure to use an up and down or back and forth motion across the larger areas. Rinse off completely and add an oil or moisturizer afterward. Rinse out any excess water and hang to dry.
Component:
Body Hammam Mitt: 50% Polyester, 38% Polyamide, 12% Cotton
Grooming Hammam Mitt: Fabric 1: 87% Cotton, 13% Polyamide; Fabric 2: 49% Polyester, 30% Polyamide, 21% Cotton
CLEAN IS A STATE OF MIND™