Back
Next product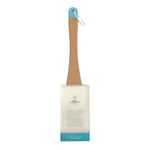 $32.00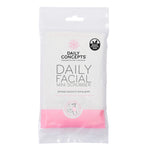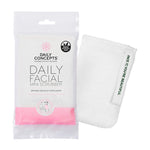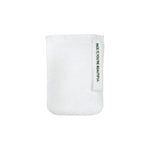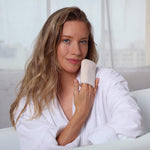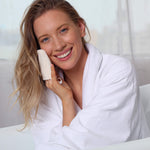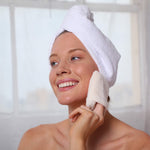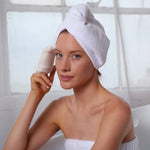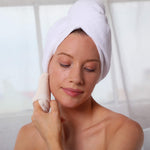 Daily Facial Mini Scrubber
SHOWER THE WORLD WITH LOVE™
The glow-inducing Daily Facial Mini Scrubber is the perfect sized tool for every corner of your face to delicately exfoliate and obtain a healthy and radiant complexion.
This dual-textured Daily Facial Mini Scrubber is excellent for a light daily facial scrub to unclog pores or as a delicate make-up remover. The finger pocket allows for control and precision, while the soy-based core and organic cotton external layer elevate the effectiveness of your facial soap or cleanser.
Directions:
Wet the Daily Facial Mini Scrubber, then apply your favorite cleanser.
Use the rough-textured side on your face for gentle exfoliation.
Finish your regimen with the softer side for a thorough cleanse.
After cleansing is complete, rinse the Daily Facial Micro Scrubber and squeeze out excess water.
Care:
Your Daily Facial Mini Scrubber comes with
SMART LABEL TECHNOLOGY
.  When the writing on label fades, it is time to replace your scrubber! (Approximately after 90 days of use). 
Pro Tip:
Perfect for travel. Use on the go or at the gym, your Daily Facial Mini Scrubber can be stored and used just about anywhere!
What We Love About the Daily Facial Mini Scrubber: 
Gentle exfoliating texture, which is ideal for sensitive skin and all skin types
SMART LABEL TECHNOLOGY, indicating the Daily Facial Mini Scrubber should be replaced when the writing on the label fades
Clinically, hypoallergenic and dermatologist tested
Organic, vegan, and biodegradable, NEVER tested on animals
Now biodegradable thanks to the Ecologic technology that enhances the biodegradation of the fibers in microbe-rich landfills
Texture:
Soft (For all skin types) 
Component/Materials Used:
Fabric: Organic Cotton, Polyester, Polyurethane
CLEAN IS A STATE OF MIND™