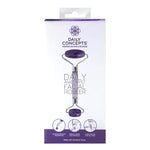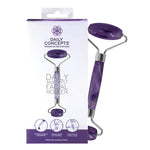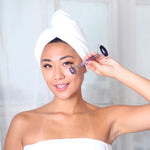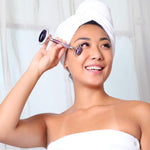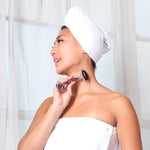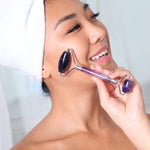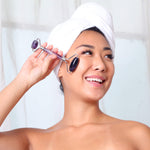 Daily Amethyst Facial Roller
SHOWER THE WORLD WITH LOVE™
Get the Daily Amethyst Facial Roller to soothe irritability and dissolve negativity because we believe that taking care of your skin shouldn't be difficult.
The Daily Amethyst Facial Roller helps in flushing out your lymphatic system, increases circulation and reduces puffiness in the face.  Amethyst is known to dissolve negativity, relieve stress and soothe irritability.
Ingredients: Amethyst, Metal
Directions:
Use the Daily Amethyst Facial Roller on clean, moisturized skin. The smaller roller is ideal for using on more delicate areas of the face and the larger roller for greater areas of the face and neck.
PRO TIP:  Add serum or oil to increase the effectiveness and absorption.
Care:
When used with serums or oils, clean after use.
What We Love About The Daily Amethyst Facial Roller: 
Relieve stress, negativity and irritability
Flush lymphatic system and increases circulation
Vegan and never tested on animal

CLEAN IS A STATE OF MIND™